Rotterdam in coronatijden  
Tekst: Edwin Kool / Analoge fotografie: André Dieterman
De eerste desolate effecten die Covid-19 op de samenleving heeft gehad, krijgen na 8 weken een voorzichtige tegenreactie. De versoepeling en het nieuwe normaal zijn het perspectief waar we ons op richten. Waar het dagelijkse leven op microniveau steeds meer op gang komt, hebben grote steden nog steeds stevige naweeën. We zoeken in ons vierluik van De verstilde stad naar het nieuwe normaal in Rotterdam.
De stad baadt in het zonlicht en lijkt op gang te komen als een strandtent in het voorjaar. Wel beweging, weinig reuring. We wandelen vanaf de Hef, langs het Entrepot richting Katendrecht. Een verloren visser zit net zo stil als zijn stad, de barbershop in Hotel New York is nu nog leeg en gesloten maar de barbiers staan in de startblokken om eindelijk weer eens te kunnen soppen en scheren. Het jaren 50 interieur krijgt in een ongebruikte toestand een unieke nostalgie, de eigenaar toont zijn voorzorgsmaatregelen en we zien een voorzichtige glimlach.
Via de hoerenloper komen we op Katendrecht waar het gebrek aan bruisende horeca direct zijn weerslag vindt. Geen volle terrassen, live-muziek of wachtrijen voor Tattoo Bob maar een saaie straat met volle prullenbakken. De Fenix is in vol bedrijf met werkers die er weer een stukje Rotterdamse praal van gaan knutselen.

Op de kop van de brug zit Hans. Ras-Rotterdammer die de 'natte T' persoonlijk heeft uitgevonden. 80 is hij inmiddels en al sinds z'n 57 met pensioen. En als sinds z'n 18e loopt hij in zijn blote bast. Hans heeft gewerkt in de havens. Als bevoorrader. Hij keilt graag een biertje, is verzot op de trektafel (flipperkast) en jazz met veel koper en zit het liefst op een terras. Nu dat niet kan heeft hij zijn eigen terras op de Hoerenloper maar ingenomen. Met uitzicht over een Rotterdam in rustig vaarwater.
We laten Hans achter, steken de Erasmusbrug over en slenteren langs de Maas richting het Wereldmuseum. De kade is groen en uitgestorven, de watertaxi's liggen werkeloos te wachten op niet-bestaande toeristen. Rotterdam sluimert maar lijkt een aanloop te nemen richting het nieuwe normaal waar iedere Rotterdammer ongetwijfeld feilloos zijn weg in vindt. Het is jammer dat in het nieuwe normaal geen natte T zit. Die zit gelukkig wel in het koude biertje.
Alle foto's zijn verkrijgbaar als limited edition prints, geprint als Fine Art Print op Hahnemuhle Photo Rag Bright White 310 grs.
20 x 30 cm | signed and numbered / edition of 100
30 x 45 cm | signed and numbered / edition of 100
40 x 60 cm | signed and numbered / edition of 50
50 x 75 cm | signed and numbered / edition of 50
Meer informatie over de mogelijkheden,
mail me gerust
.
English below.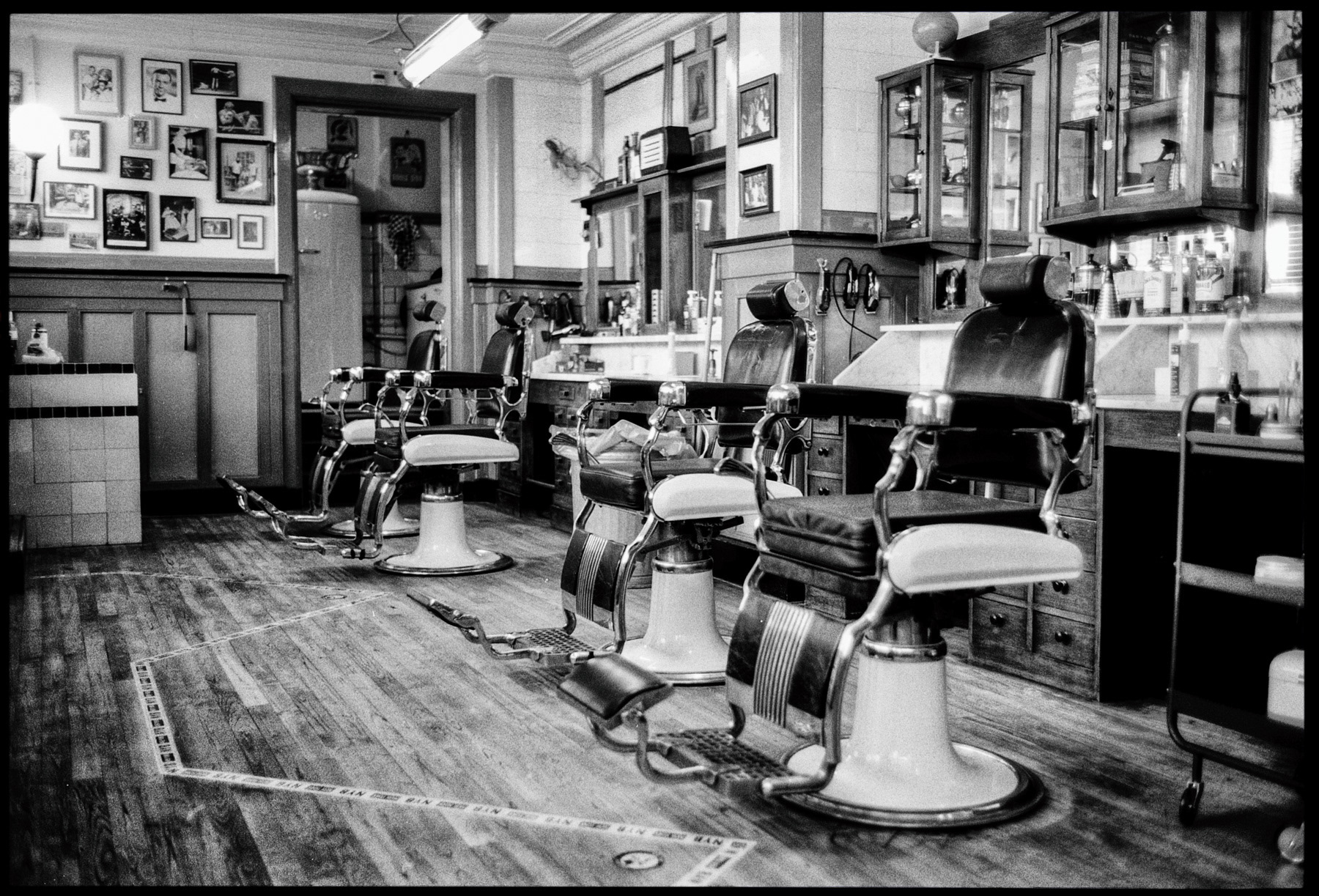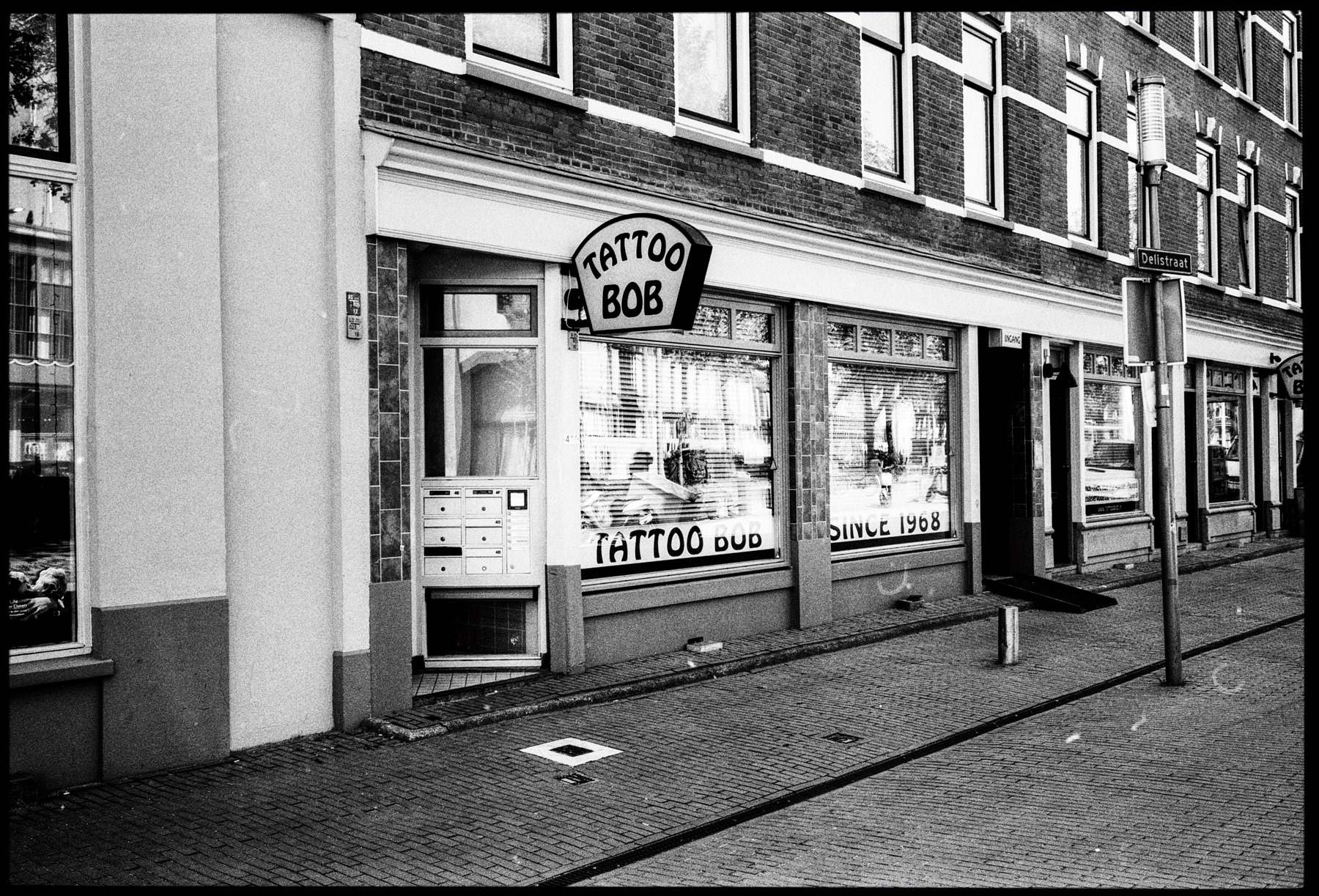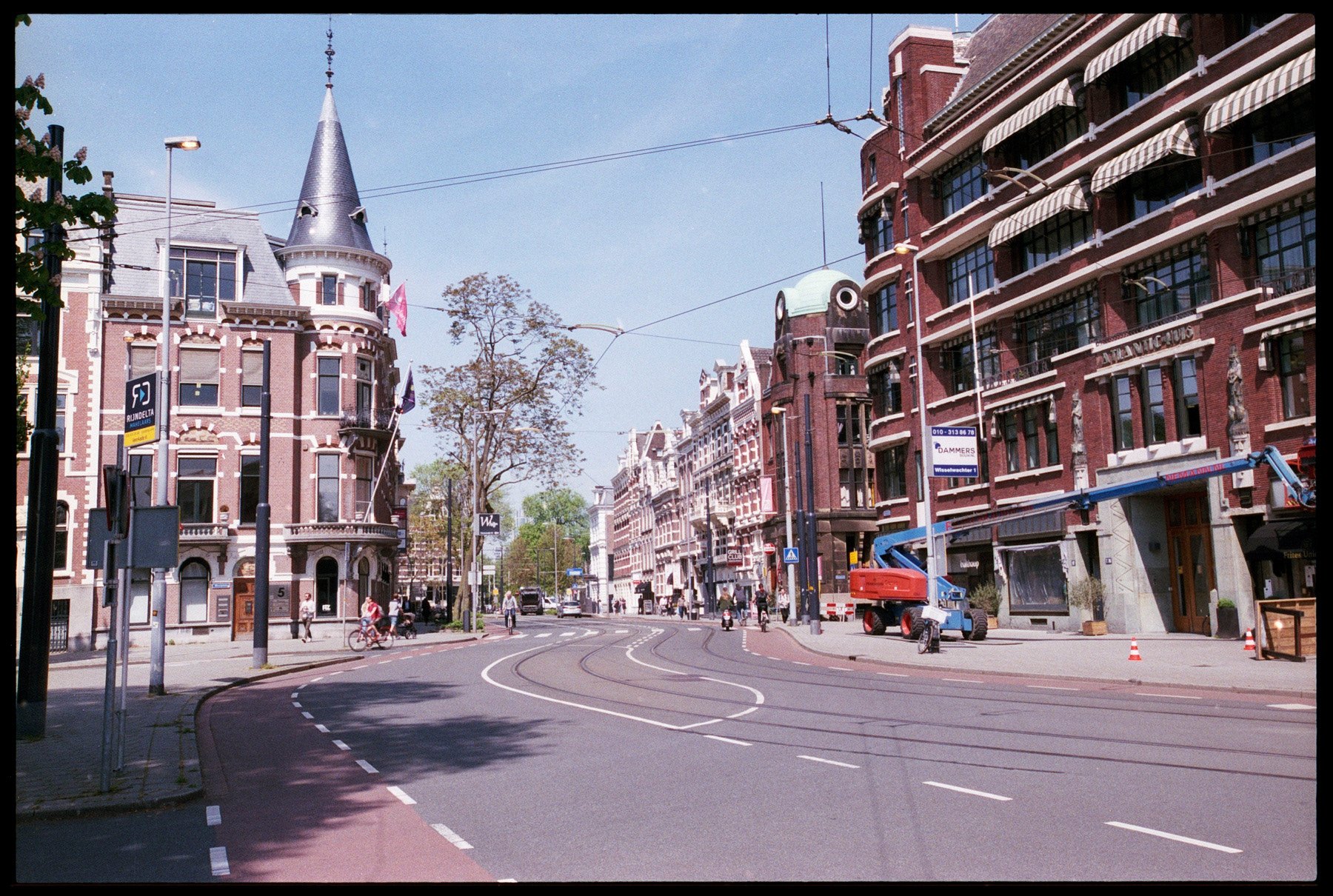 The tranquil city - Rotterdam in corona times
Rotterdam in corona times  
Text: Edwin Kool / Analog photography: André Dieterman
The first desolate effects that Covid-19 has had on society get a cautious counter-reaction after 8 weeks. Relaxation and the new normal are the perspective we focus on. Where daily life is getting more and more underway at the micro level, large cities still have serious after-effects. In our fourth part of De verstilde stad we are looking for the new normal in Rotterdam.
The city is bathed in sunlight and seems to get going like a beach tent in the spring. Movement, little commotion. We walk from the Hef, past the Entrepot towards Katendrecht. A lost fisherman is as quiet as his city, the barbershop in Hotel New York is still empty and closed, but the barbers are ready to finally dunk and shave again. The 1950s interior, in an unused condition, gets a unique nostalgia, the owner shows his precautions and we see a careful smile. Via the 'hoerenloper' we arrive at Katendrecht, where the lack of vibrant catering establishments is immediately reflected. No full terraces, live music or queues for Tattoo Bob, but a boring street with full trash cans. The Fenix is in full operation with workers who are again tinkering with a piece of Rotterdam splendor.
Hans sits on the head of the bridge. Real Rotterdammer who personally invented the 'wet T'. 80, he has retired since the age of 57. And since the age of 18 he has been walking in his bare bark. Hans has worked in the ports. As a supplier. He likes to throw a beer, loves the draw table (pinball machine) and jazz with a lot of brass and prefers to sit on a terrace. Now that is not possible, he has taken his own terrace on the Hoerenloper. With a view over a Rotterdam in calm water.
We leave Hans behind, cross the Erasmus Bridge and stroll along the Maas towards the Wereldmuseum. The quay is green and deserted, the water taxis are waiting idly for nonexistent tourists. Rotterdam is slumbering but seems to be running up to the new normal in which every 'real Rotterdammer' will undoubtedly find his way. It is a pity that the new normally does not have a wet T. Fortunately, it is in the cold beer.​​​​​​​
All photographs are available as limited edition prints, executed as Fine Art Prints on Hahnemuhle Photo Rag Bright White 310 grs.
20 x 30 cm | signed and numbered / edition of 100
30 x 45 cm | signed and numbered / edition of 100
40 x 60 cm | signed and numbered / edition of 50
50 x 75 cm | signed and numbered / edition of 50
More info,
please get in touch
.