Amsterdam in coronatijden  
Tekst: Edwin Kool / Analoge fotografie: André Dieterman
Na een maand van Covid-19 kunnen we wel vaststellen dat de wereld zo'n beetje tot stilstand is gekomen. Social distancing, lock down en stay home, stay safe vormen inmiddels de kernbegrippen. De stagnatie is duidelijk voelbaar en zichtbaar in Amsterdam waar je de pijnlijke hiaten van het toeristische beleid ziet bovendrijven. Want als die er niet meer zijn, dan is het echt stil in de stad; dankzij corona krijgt de stad haast een apocalyptisch karakter. 
Tijd om dat eens vast te leggen want de kans dat we op een zonovergoten dinsdagochtend in april een lege stad aantreffen, is in feite volkomen nihil. Een unieke kans om een ander Amsterdam te documenteren. Samen met fotograaf André Dieterman en zijn analoge Leica M6 stuif ik de stad in. We rollen de pont af en zien een compleet lege Czaar Peterstraat opdoemen, de Magere Brug lijkt functieloos want niemand loopt er overheen, de Albert Cuyp baadt ruimtelijk in het zonlicht en kort daarna staan we als enige in de fietstunnel van het Rijksmuseum. Trams rijden bijna niet, toeterende taxi's bestaan niet meer en in de tourist traps van de Leidse straat, de Kalverstraat en op de Dam kunnen we een kanon afschieten.

Het is een vreemde vibe. Even desolaat als fascinerend. Vogelgeluiden mixen zich met de FM-herrie van de vele bouwvakkers, zo'n beetje de enigen die aan de gang blijven en eindelijk eens de ruimte te hebben.
En op de Wallen geen dronken Engelse toeristen, de gordijnen van de peeskamers zijn allemaal dicht en we zien zowaar de andere schoonheid van dit historische hart van Amsterdam. Schitterende panden, gevels en trapportalen.

We zijn de enige klanten bij haringkar Jonk op het Spui en als we weer de pont terugpakken naar Noord, fietsen we ontspannen, in de volle zon en alleen door het Noorderpark. Een verstilde stad die door omstandigheden in vol ornaat haar weergaloze pracht kan tonen. Want nu zien we alles, komen overal en we proeven stiekem de lente zoals we die nog nooit hebben kunnen proeven. Mooi en merkwaardig tegelijk.

Tijd voor een wijntje aan de kade van het IJ....


Alle foto's zijn verkrijgbaar als limited edition prints, geprint als Fine Art Print op Hahnemuhle Photo Rag Bright White 310 grs.
20 x 30 cm | signed and numbered / edition of 100
30 x 45 cm | signed and numbered / edition of 100
40 x 60 cm | signed and numbered / edition of 50
50 x 75 cm | signed and numbered / edition of 50
Meer informatie over de mogelijkheden,
mail me gerust
.
English below.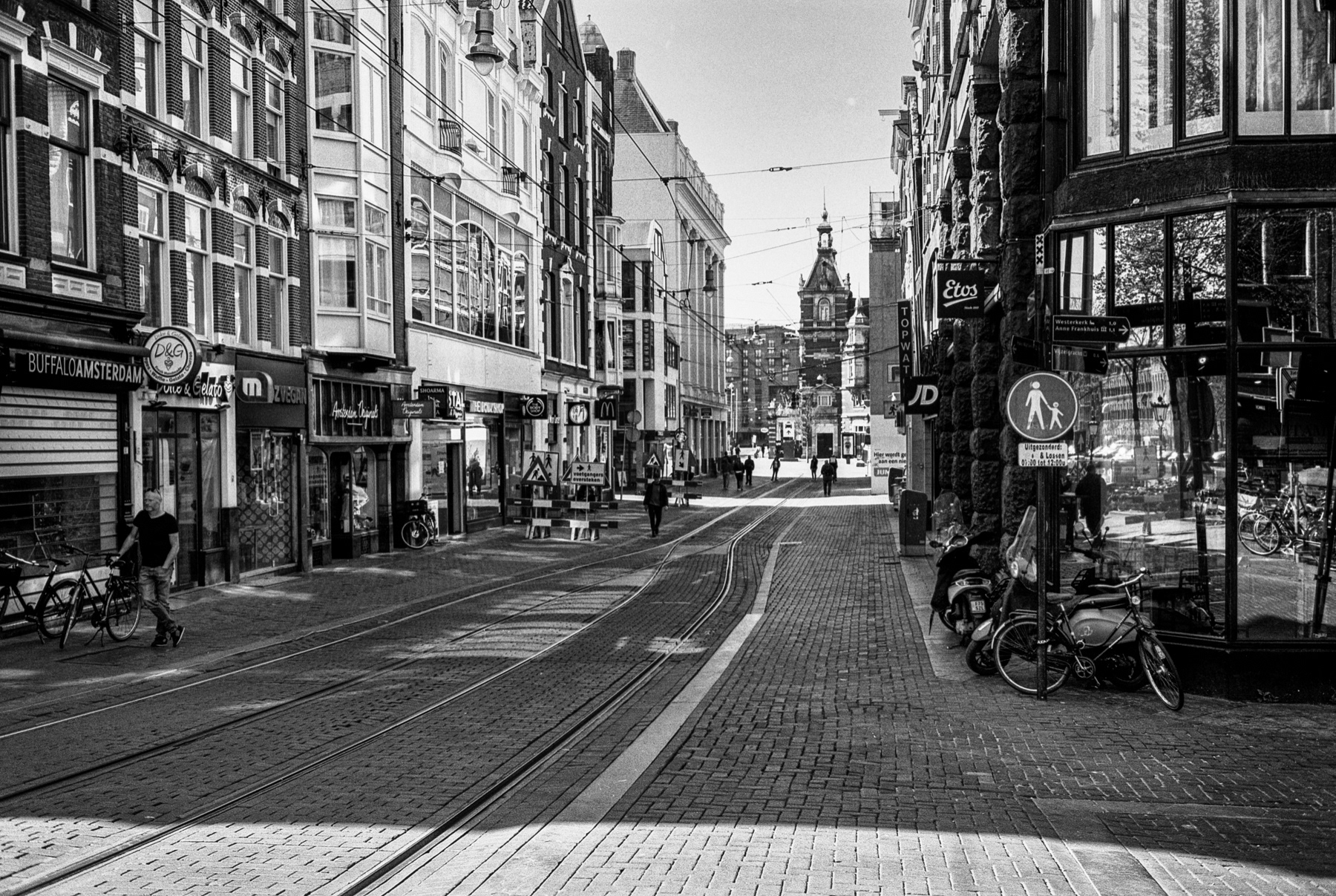 The tranquil city - Amsterdam in corona times
Amsterdam in corona times  
Text: Edwin Kool / Analog photography: André Dieterman
After a month of Covid-19, we can conclude that the world has pretty much come to a standstill. Social distancing, lock down and stay home, stay safe are now the core concepts. The stagnation is clearly tangible and visible in Amsterdam, where you can see the painful gaps of the tourist policy surfacing. Because when they are no longer there, it's really quiet in the city; thanks to corona, the city almost acquires an apocalyptic character.
Time to record that because the chance that we'll find an empty city on a sun-drenched Tuesday morning in April is in fact absolutely nil. A unique opportunity to document another Amsterdam. Together with photographer André Dieterman and his analog Leica M6 I dash into the city. We roll off the ferry and see a completely empty Czaar Peterstraat looming, the Skinny Bridge seems to be functionless because no one walks over it, the Albert Cuyp bathes in the sunlight in a spacious way and shortly after that we are the only one in the Rijksmuseum's bicycle tunnel. Trams hardly run, honking taxis no longer exist and we can fire a cannon down in the tourist traps of the Leidsestraat, the Kalverstraat and on the Dam.

It's a strange vibe. As desolate as it is fascinating. Bird sounds mix with the FM noise of the many construction workers, about the only ones who keep going and finally have the space. No drunken English tourists on the Red Light District, the curtains of the tendon rooms are all closed and we actually see the other beauty of this historic heart of Amsterdam.

Beautiful buildings, facades and staircases. We are the only customers of herring cart Jonk on the Spui and when we take the ferry back to Noord, we cycle relaxed, in full sun and alone through the Noorderpark.
A quiet city that can show its unparalleled splendor due to circumstances. Because now we see everything, go everywhere and we secretly taste spring like we have never been able to taste it. Beautiful and curious at the same time.
Time for a glass of wine on the quay of the IJ ....
All photographs are available as limited edition prints, executed as Fine Art Prints on Hahnemuhle Photo Rag Bright White 310 grs.
20 x 30 cm | signed and numbered / edition of 100
30 x 45 cm | signed and numbered / edition of 100
40 x 60 cm | signed and numbered / edition of 50
50 x 75 cm | signed and numbered / edition of 50
More info,
please get in touch
.