Utrecht in coronatijden  
Tekst: Edwin Kool / Analoge fotografie: André Dieterman
De intelligente lock down geeft ons weliswaar wat bewegingsruimte maar echt hectisch wil het voorlopig niet worden. In Amsterdam werden we gegrepen door de overweldigende leegte en de unieke sfeer die dat oplevert. Een inzicht dat we verder willen verkennen. Met Amsterdam als benchmark ging ik samen met fotograaf André naar zijn geboortestad Utrecht. 
Hoog Catharijne had beduidend meer bedrijvigheid dan Amsterdam CS maar de desolate erfenis van een onmogelijk bouwproject is nooit ver weg. Maar zodra je het centrum in wandelt, dan ontvouwt zich een andere wereld. We steken het Vredenburg over en via de Lange Viestraat gaan we de Oudegracht op. De compactheid van de Utrechtse binnenstad heeft een vanzelfsprekende dynamiek. Geen lege huizen en pleinen vanwege verdwenen toeristen en expats maar een stad in bedrijf. Beperkt, maar toch. We krijgen een dorps gevoel waar mensen elkaar groeten en beveiligers, stratenmakers en winkelpersoneel paraat staan voor een praatje. De werfkelders staan vol in de belangstelling van een batterij aan bouwvakkers die eindelijk eens de tijd en ruimte hebben om het stadsherstel er doorheen te jassen. We steken de Neude over en vanuit alle perspectieven missen we hier toch het stadse geraas.

De paar fietsers die we nu vooruit zien sluipen mag geen naam hebben. Net als het gemis aan de stapels studentenfietsen aan de Plompetorengracht en de hoerenlopers in de Hardebollenstraat. Die zijn overigens al een tijdje weg maar we krijgen hier direct het gevoel het centrum van 1920 te zijn binnengestapt. Met de Domtoren als eenzame bewaker van een gracieuze stad.
Utrecht laat zich momenteel verkennen als een selectie ansichtkaarten. Met een bijna tastbare nostalgie van een tijd hoe de stad ooit was. Klein, overzichtelijk en vriendelijk vooral. Café De Vingerhoed is ineens weer up to date in deze opgelegde stedelijke atmosfeer, Ome Ko lacht je tegemoet, Caroline heeft het leuk en het openbaar toilet aan de Mariaplaats is zelfs gratis. Studenten knutselen in slo-mo aan hun immense studentenhuizen en Broodje Mario smaakt beter dan ooit. Je vouwt je blik met de kromming van de gracht mee en je mijmert in no-time een eind weg over hoe het ooit geweest moet zijn. 
Tijd voor een pilsje.
Alle foto's zijn verkrijgbaar als limited edition prints, geprint als Fine Art Print op Hahnemuhle Photo Rag Bright White 310 grs.
20 x 30 cm | signed and numbered / edition of 100
30 x 45 cm | signed and numbered / edition of 100
40 x 60 cm | signed and numbered / edition of 50
50 x 75 cm | signed and numbered / edition of 50
Meer informatie over de mogelijkheden,
mail me gerust
.
English below.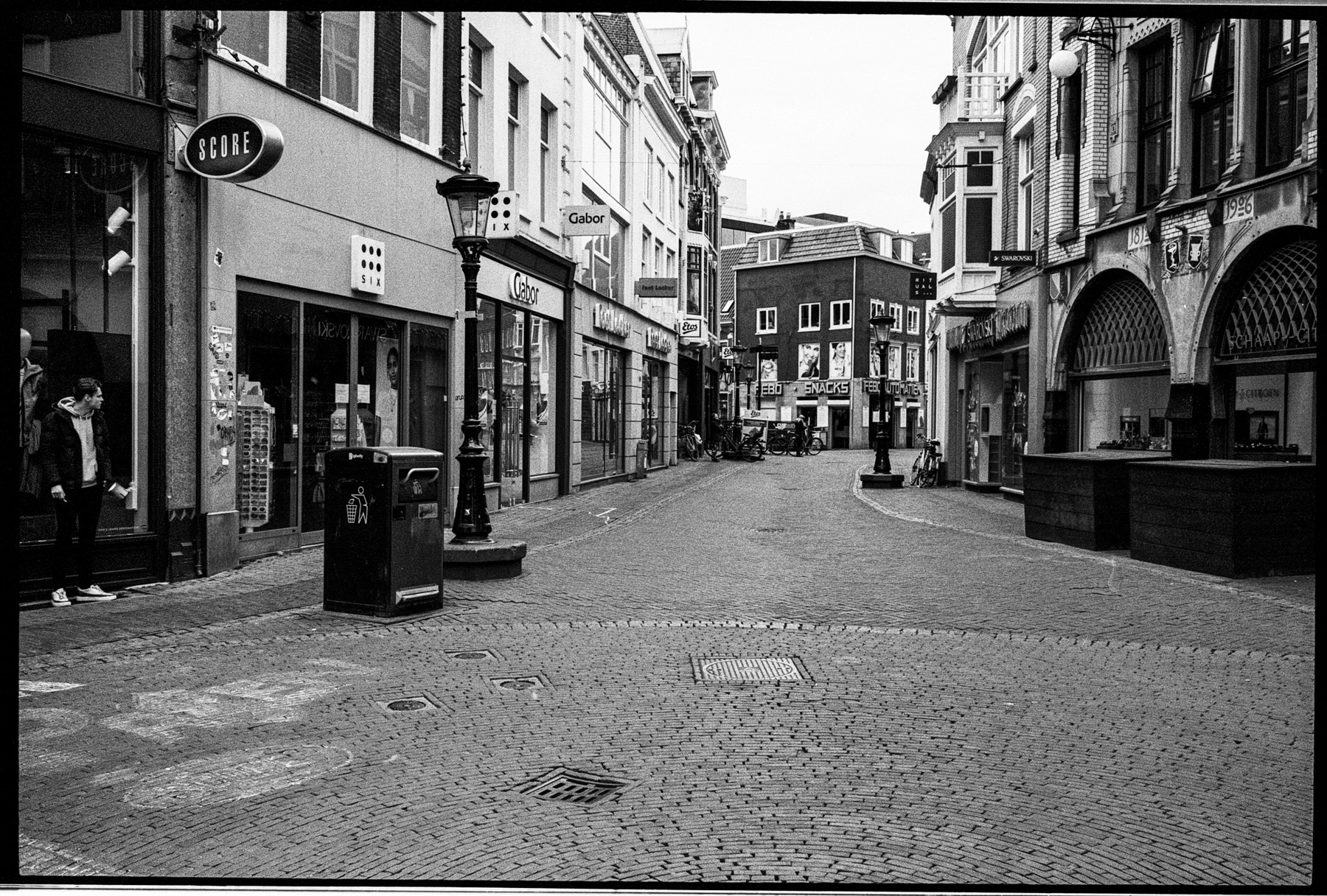 The tranquil city - Utrecht in corona times
Utrecht in corona times  
Text: Edwin Kool / Analog photography: André Dieterman
Although the intelligent lock down gives us some room to maneuver, it doesn't want to get really hectic for the time being. In Amsterdam we were captivated by the overwhelming emptiness and the unique atmosphere that this provides. An insight that we want to explore further. With Amsterdam as a benchmark, I went with photographer André to his hometown Utrecht.
Hoog Catharijne had significantly more activity than Amsterdam CS, but the desolate legacy of an impossible construction project is never far away. But as soon as you walk into the center, a different world unfolds. We cross the Vredenburg and via the Lange Viestraat we enter the Oudegracht. The compactness of the city center of Utrecht has a natural dynamic. No empty houses and squares because of disappeared tourists and expats, but a city in business. Limited, but still. We get a village feeling where people greet each other and security guards, pavers and shop staff are ready for a chat. The wharf cellars are full of interest from a battery of construction workers who finally have the time and space to coat the urban regeneration. We cross the Neude and from all perspectives we still miss the urban noise here.

The few cyclists we now see creeping forward should not have a name. Just like the lack of stacks of student bicycles on the Plompetorengracht and the whore runners in Hardebollenstraat. They have been gone for a while, but we immediately get the feeling that we have entered the center of 1920. With the Dom Tower as the lonely guardian of a graceful city.

Utrecht is currently being explored as a selection of postcards. With an almost tangible nostalgia of a time how the city once was. Small, clear and friendly above all. Café De Vingerhoed is suddenly up to date again in this imposed urban atmosphere, Uncle Ko smiles at you, Caroline has fun and the public toilet at the Mariaplaats is even free. Students craft their immense student houses in slo-mo and Broodje Mario tastes better than ever. You fold your gaze with the curvature of the canal and in a matter of time you think about how it must have been.
Time for a beer.
All photographs are available as limited edition prints, executed as Fine Art Prints on Hahnemuhle Photo Rag Bright White 310 grs.
20 x 30 cm | signed and numbered / edition of 100
30 x 45 cm | signed and numbered / edition of 100
40 x 60 cm | signed and numbered / edition of 50
50 x 75 cm | signed and numbered / edition of 50
More info,
please get in touch
.